Medicare Part B for Dental Care
Although it is easy to understand which procedures are covered by your dental insurance, this is not very clear for Medicare. It all depends on your particular general health and your oral health conditions and what your oral health needs are. In most scenarios we have treated, Medicare would usually cover the cost for treating infected teeth, which is also causing an infected bone. This could include bone grafting and related exams. It might also cover a few other procedures involving implants. However, the coverage determination is not straightforward and could only be assessed by a dentist who is also certified by Medicare. 

Only 1% of dentists in the US are Medicare certified. We are among those providers meaning if we diagnose you with an oral condition which could affect your long term health, your treatment might be covered up to 100% by Medicare part B insurance. Dr. Esfandiari and Dr. Ganji are Medicare certified dentists and have been helping Medicare recipients, making sure their oral health is addressed, maintaining healthy teeth and a beautiful smile. An extra bonus for patients treated by our dentists is that after taking care of your oral health condition, we might be able to cover you fully or partially for dental implants, bone graft, and related surgeries.
Please note that even if the cost might not be fully covered by your insurance, we look forward to working with you with several in-house financial programs, including an amazing discount membership plan we offer.
Which oral health conditions are usually covered by Medicare Part B?
So what does Medicare cover, and how you can benefit from it for your oral health?
As you might have heard of, Medicare does not cover routine dental care or any routine tooth-related issues such as checkups, deep cleaning, dentures, fillings, crowns, etc.. 
However, there are some situations where you can get coverage for your dental health needs under Medicare. They still look into the medical needs of the procedure to make sure it is medically necessary to perform those procedures in order to maintain your long-term health and well being. Those health related issues and conditions could be caused by an infected tooth or even an accident. Below are examples of some covered scenarios in more details: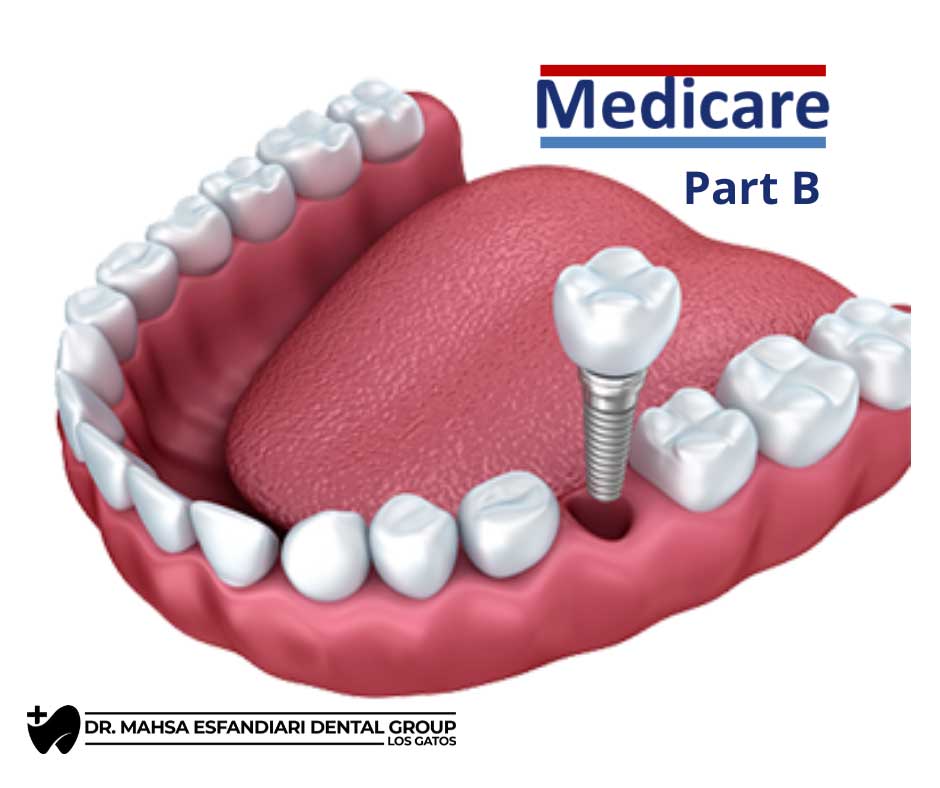 Most oral health issues, which are medical (non-cosmetic), could be covered under Medicare. Examples are

Inflammation in your jaw
Bone resorption (loss of bone tissue) interfering your ability to chew food.
Infected teeth which could be leading to infected bones. 
Or any other scenario where implants could be categorized as a medically necessary intervention.

If a procedure is needed to recover the damage caused by an injury. For example, falling and knocking a tooth out. In such scenarios, there is a high chance that Medicare covers some of the implant costs for you.
If missing teeth is causing you some major medical problems and replacing those could help treating the issue, we might be able to ask Medicare for some partial or full coverage.
If a tooth extraction is medically necessary for a larger treatment plan before an organ transplant or a radiation treatment.
If you are not able to chew food due to pain or tooth loss, you may qualify to get dental implants as they would be medically necessary to prevent any complications caused by poor dieting.
In addition to the above conditions, you may qualify for a medical necessity condition if you have an oral condition together with another organ disease. As oral disease and infections can lead to some other diseases in the body like heart attack, valvular and vascular infection, lung infection, colon cancer, and some other diseases. If you have an oral infection and experience any of these conditions, you may qualify to use your Medicare to cover a portion of your dental expenses.
How to know if you're covered?
The first step to check if you can use your Medicare to cover your oral health-related expenses such as dental surgeries or implants is to consult with a dentist who also has a deep understanding of all the Medicare rules and regulations. As two top dentists in Los Gatos, Dr. Esfandiari and Dr. Ganji can perform in-depth evaluations of your oral and medical health needs, and to check which portion of your treatment could be covered by Medicare. The good news is that this is all complementary, and we do not charge you until you accept the treatment plan and start your procedure.
Our caring team has been working with seniors of all ages throughout the Bay Area and have been helping them to recover their oral health back to normal life. We feel proud to be able to help our seniors and to offer them the treatment using their Medicare benefits so that they can recover and enjoy the life they deserve. We look forward to helping you with exceptional care and service.